To dress up in spring or summer can be quite challenging for us guys! The ladies just take a little dress and thats it… for us most times a full suit is required, which is really isn't much fun, especially in summer when it´s hot.
When I saw those smart trousers with pink floral print I immediately had an elegant outfit in mind, so I ordered it for this post. Ok… those trousers might be quite wild and eye-catching, so maybe not something for everyone. But I really love colorful clothes like this and I do not care if people might think I´m crazy by wearing them! Fashion is fun and experimenting with fashion is fun as well.
If this is too much for you, you can easily tune down the look by choosing simple plain chinos which you also get in this 7/8 length this year. If you like this length but don't find matchings ones, just buy them in regular length and have it shortened!
The first look I will show is the dapper look I had in mind when I first saw the pants online. Pair them with a white formale shirt and a black tie and you're ready to go to an exclusive garden party or even to a wedding (if no formal dresscode is required). As flip flops or sneakers would have been too casual I paired mule dress slippers for this elegant look. Those are shoes that I wouldn't regular wear, but for an elegant summer occasion they are just the perfect match and surprisingly comfortable as well!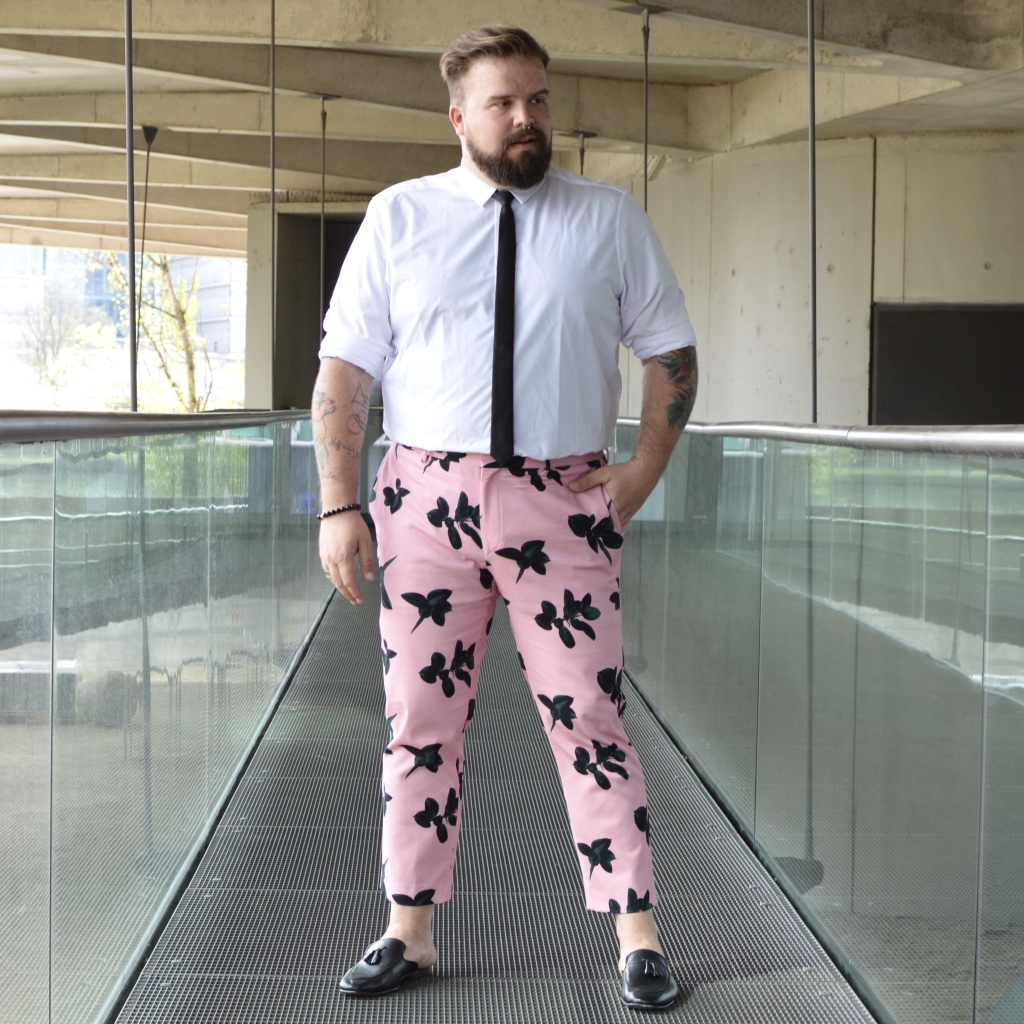 As I like those pink pants that much I styled them for everyday use as well. As the trousers are eye-catching enough just grab a black shirt and a pork pie and thats it. A simple look that is unique and special due to the color and the pattern of the pants.
If it´s not that warm outside a denim jacket will work perfect as a combination to the pants.
This ASOS PLUS denim jacket has destroyed effects, a big and colorful print on the back and nice patches on its front. Patches are one of the trends you will see quite often this spring and summer. Due to the color of the print and the patches, the jacket is a perfect match for the pants.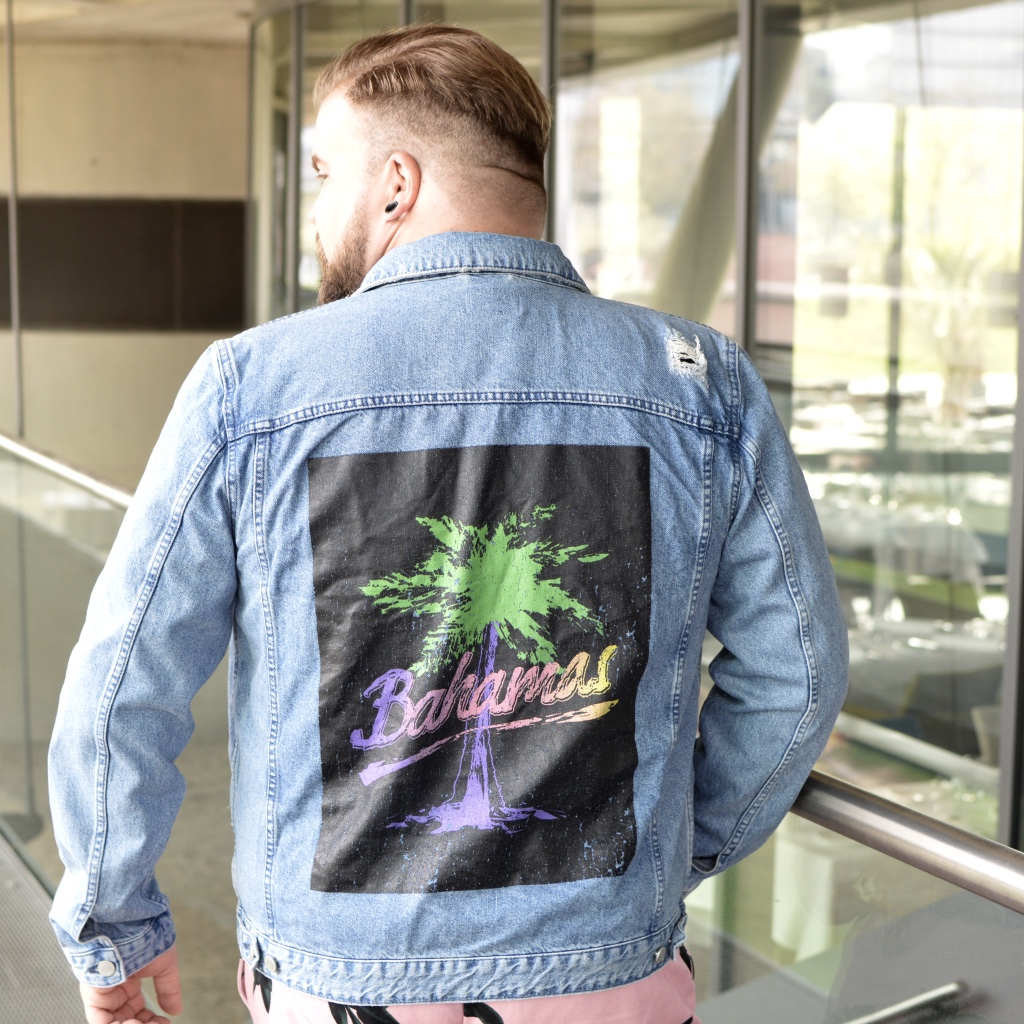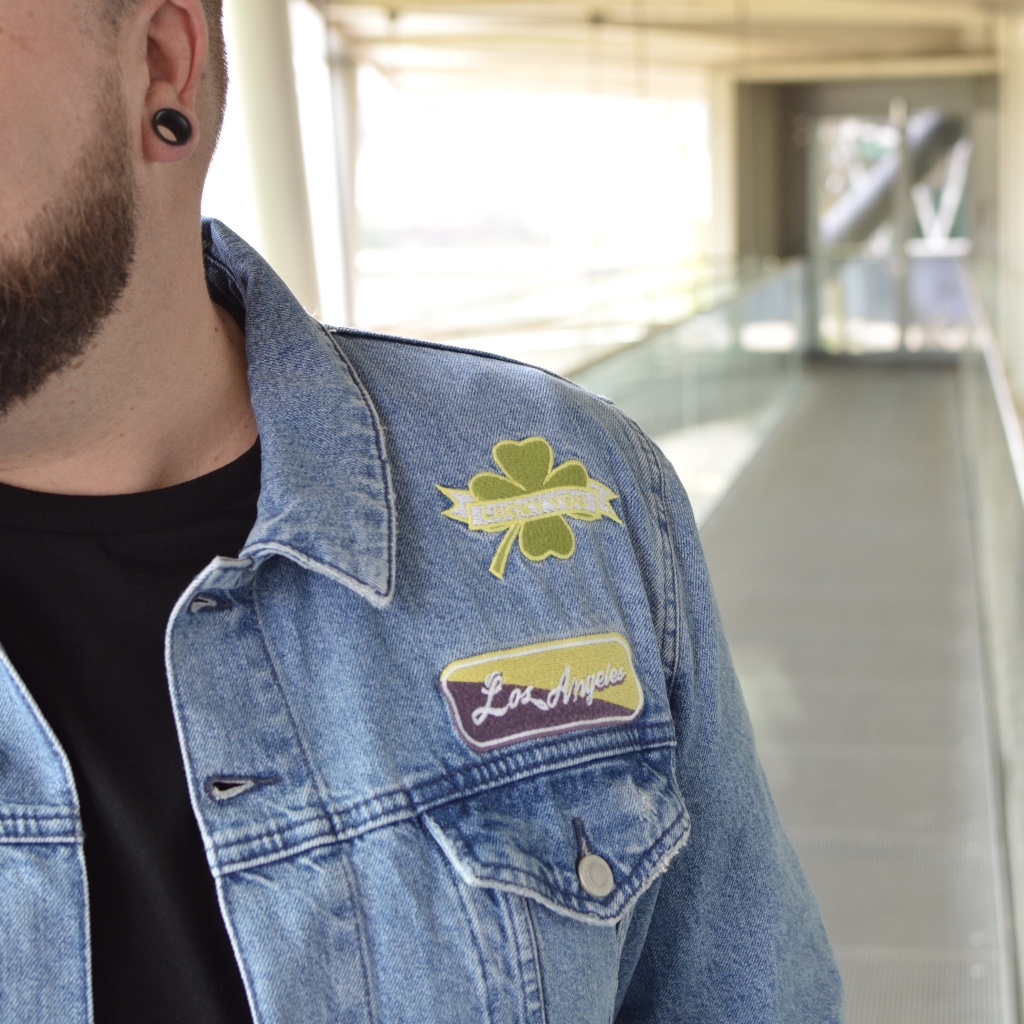 I am really happy and proud that I am cooperating with ASOS since March. That gives me the opportunity too monthly show you the latest plus size fashion trends from their new collection. New, trending and fancy stuff like those pink pants!
If you do not like the color or the pattern of those smart trousers you can tune down that look easy – as already mentioned above – just by choosing a plain pair of chinos. Personally I am happy that "crazy" clothes like this are now also provided in plus sizes and I don't shy away to wear them. 🙂
Accept your Extra-Inches – love yourself!
Shopping-Links:
Please see my size guide for comparing your measurements with the provided sizes I wore the clothes for this blogposting.
Follow me! INSTAGRAM & FACEBOOK
*tagged articles have been provided by the named brands or shops for this blog posting