| Advertisement |
GRID CHECK – CHEVRON PANEL – FLORAL PRINT! After the last clean scandi style outfits I´ll show you a complete opposite look today – a little mixed print explosion!
Prints can be mixed in two ways (as I see it): Either you choose totally different colors for each printed item or you soften the mix by having all pieces in harmonized or totally the same colors/color family, like I did it for this post.
I saw the pants and fell in love with them and was starting to scroll the shop for matching pieces… sure, a white shirt or everything else clean in uni would have been fine – but then I found the floral print shirt in the same navy blue and grey and the mixed prints idea was born. The t-shirt was also a perfect match, so I ordered everything.
First of all I´d like to show you all three pieces worn together…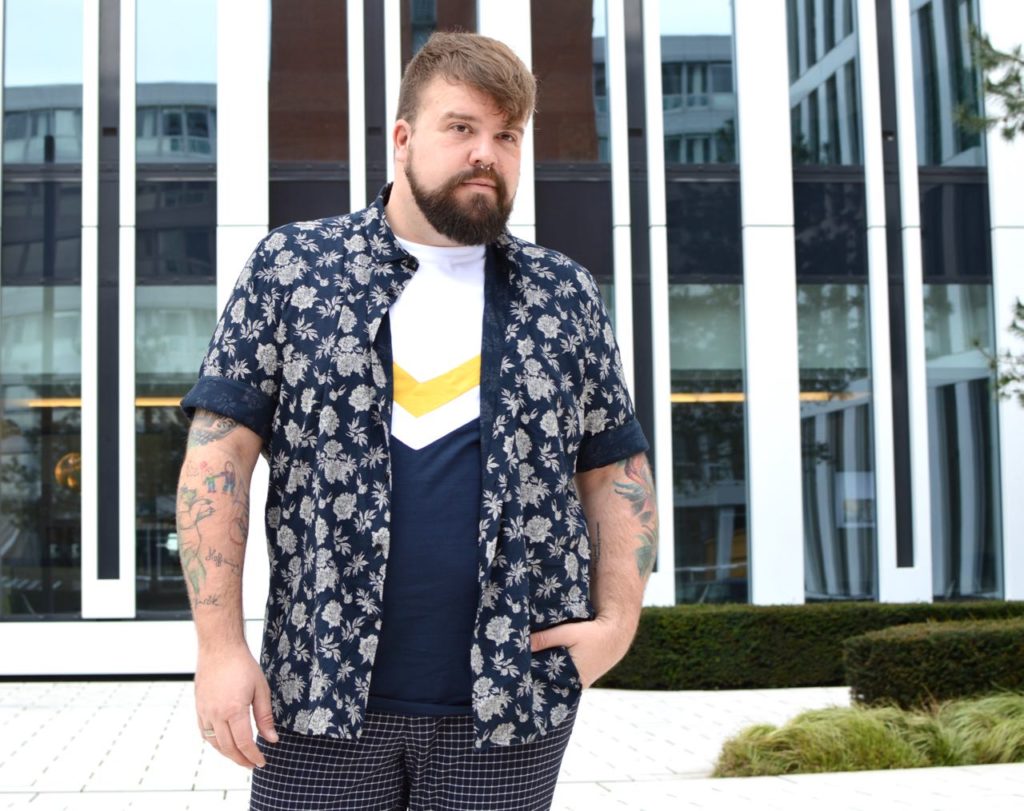 … that works totally fine and due to the color everything matches perfectly. But as I like to shop pieces that can be combined in many variations there is more than one look I have created. Look 1 is the one above – alle three pieces mixed together.
The second look is just the t-shirt an the pants. I hink that´s the most quiet and modest look as the shirt does not have a small print – only the chevron panel.
By the way… even if I don't want to hide my body, I really think that the shirt is flattering! The dark color hides the belly, the white top part underlines your shoulders and the yellow V creates a great shape. So kind of a perfect t-shirt for us bigger guys. 🙂
Look 3 is the wild one… or at least it sounds wild when reading it: A floral print shirt paired with  checked smart trousers… but that totally works – as the colors calm it down and somehow put the two pieces together.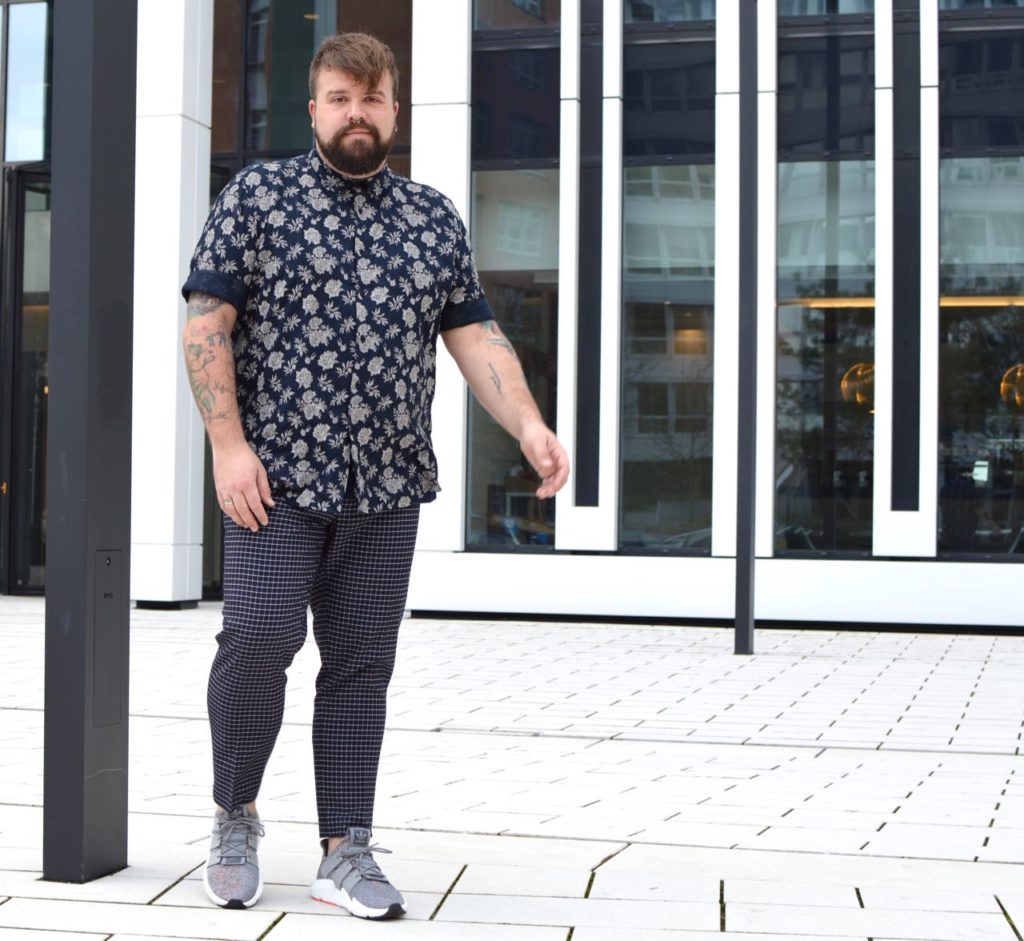 As it´s still winter and just shirts or tees aren´t warm enough a jumper or cardigan is kind of a must. I chose a grey knitted parka cardigan that works fine with all the prints. All grey and knitted things work fine for nearly everything as grey can be paired to everything. 🙂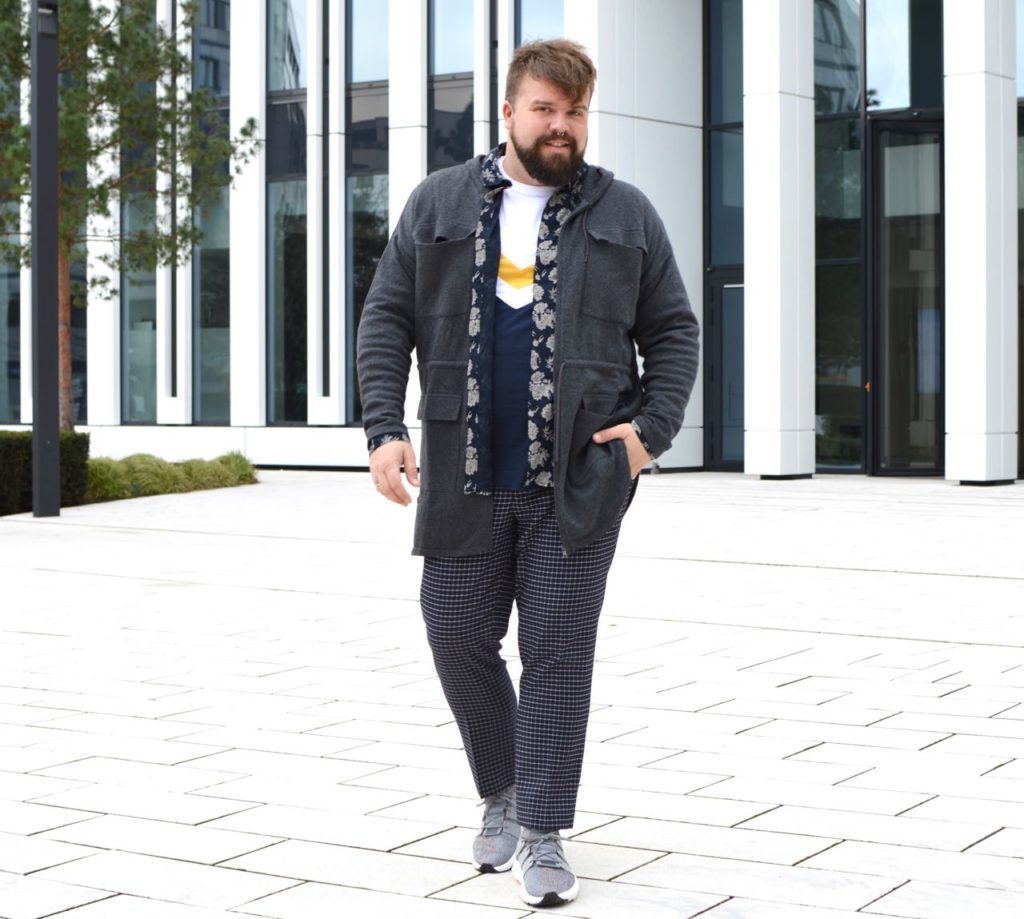 Give mixed prints a try – it really can be fun to play with prints, even if the combinations may sound strange in the first way.
Accept your Extra-Inches – love yourself!
Shopping-Links:
Please see my size guide for comparing your measurements with the provided sizes I wore the clothes for this blogposting.
Follow me! INSTAGRAM & FACEBOOK
*tagged articles have been provided by the named brands or shops for this blog posting