You might think: Now he´s gone… writing about handbags for men…
But no! Those little bags can really be useful! I always carry so much stuff with me, that I am using either messenger bags or backpacks since ages – as it sucks to put smartphone, wallet and cigarettes in the pockets of my jeans.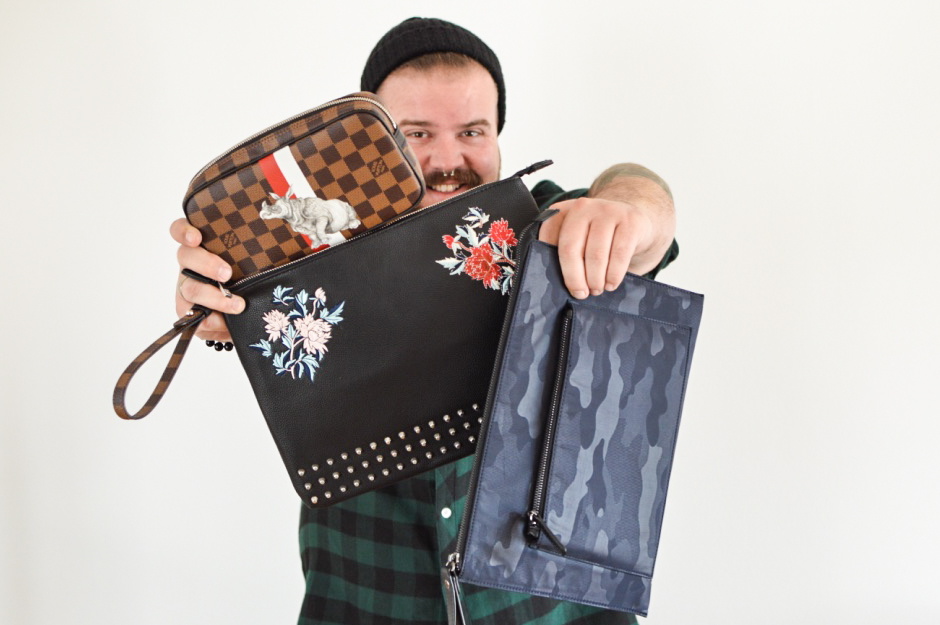 A few months ago, I bought my first briefcase at ZARA and used it as a clutch. Since then, I bought some more as I really liked it. In this post I will show you those clutches and how you can wear them.
As I mentioned in a lot of postings before, I really like the play with accessories to complete an outfit. Clutches are a perfect for that!
The first look is based on the 90y grunge style – which will have a come back (like mostly all trends from that period) in this years fashion. I paired an embroidered briefcase with rivets with a checked shirt and a denim vest with patches. And yes: the bag really was listed under the mens accessories in the shop. 🙂 Bags in this size are mostly not called clutch, but either portefeuille, pouch, pochette or simply just briefcase.
All in all a really great look – not at all feminine even with the "handbag".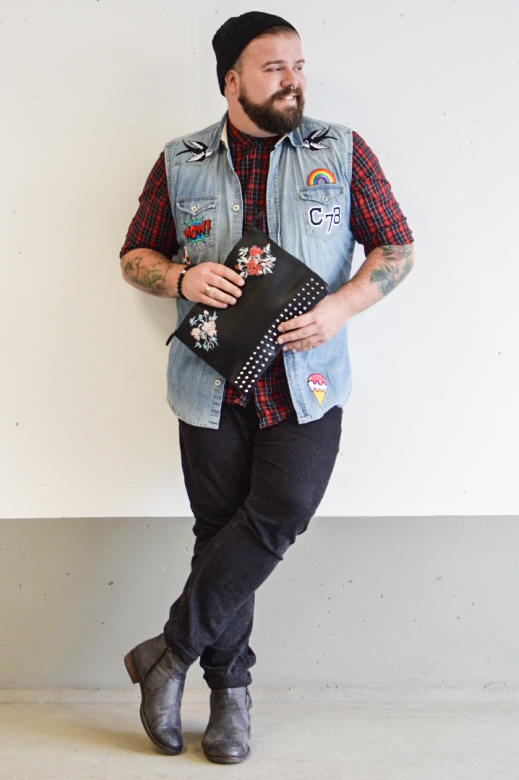 I kind of treated myself with the second bag… It´s a Louis Vuitton special edition. I´m not that much into big labels, but when it comes to bags, I really have an expensive preference for LV  – but as I don´t have other expensive hobbies, thats ok. 🙂 I really wanted an item from that special edition and chose that clutch. Wallet, smartphone, cigarettes and keys fit in perfectly!
If you are into labels but don´t want to spend too much money on pieces of the collections, those little bags are the perfect thing to buy, as they are one of the affordable items from the designers product range…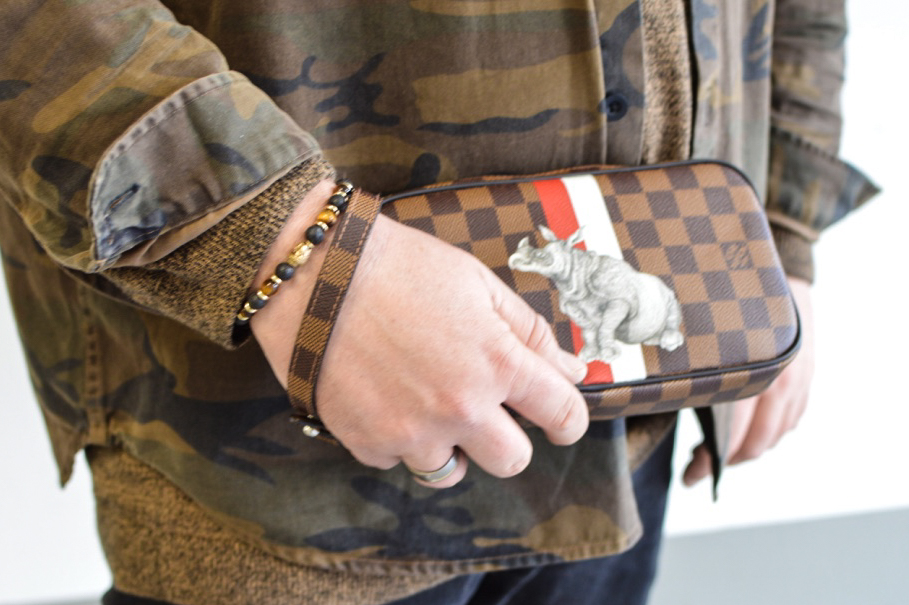 I chose matching sneakers for the bags red and white stripes, again a bracelet in the same colours of the clutch and paired that all with a camouflage shacket and a turtleneck jumper. A mix of patterns but as the colours find themselves again in different pieces it matches well.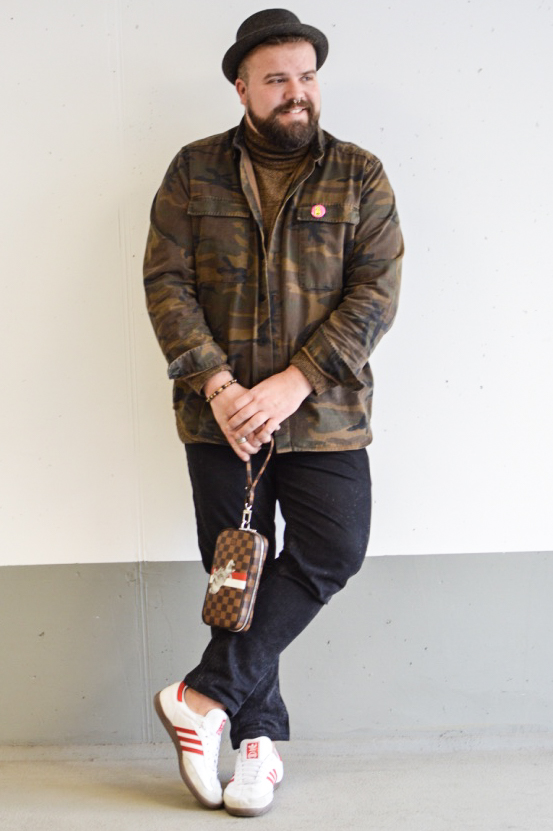 As I third variation I´d like to show you a business outfit. Ok… as it is a denim suite paired with sneakers, it might be quite casual as well, but at least it is a suit. Carrying a briefcase is usual in all day business life. You need something to put your tablet in, something to write on and your smartphone etc and might not want to carry a larger bag with you. So this briefcase is a perfect choice for meetings or job interviews.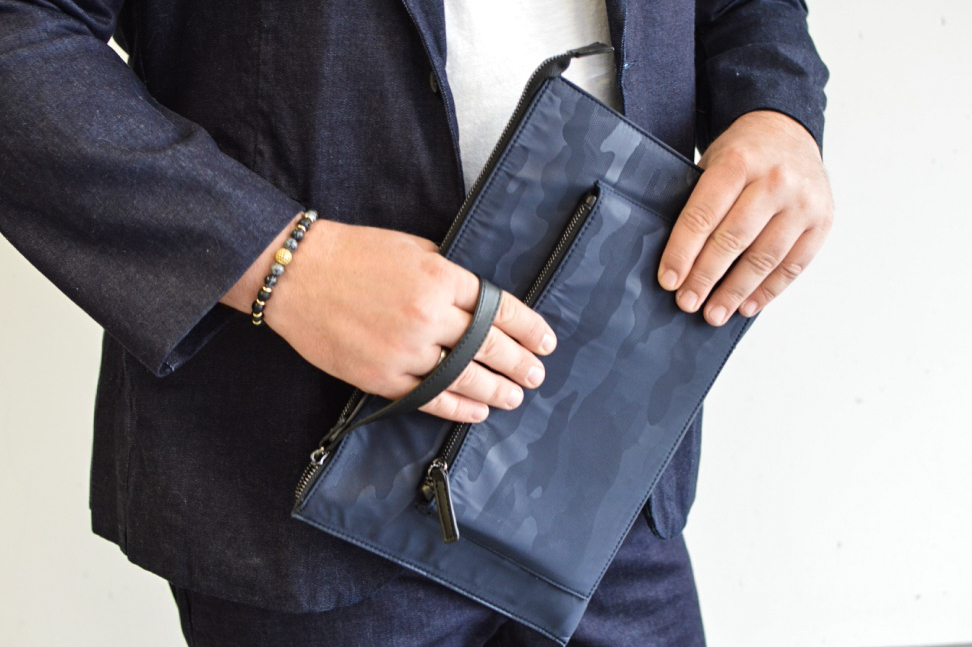 A perfect outfit to have one or two after work drinks on your way home as well. 🙂
I don´t alway carry a clutch, pouch, pochette or however you will call it when I go out in the evening. But there a many occasions where one of those little bags is one of the best things you can have. Just throw everything you need inside and you´re ready to go!
Despite of the convenient side, a clutch is yet another accessory you can complete your look with – just like shoes, hats or bracelets are. Even if you might need to get used to it, give it a try and you´ll see that it´s really not just a useful but also stylish accessory.
Accept your Extra-Inches – love yourself!
Shopping-Links:
You will find even more items in the respektive category pages:
Follow me! INSTAGRAM & FACEBOOK