A jacket paired with Jeans is always a good combination. Elegant and easy at the same time. The classic combination is a dark blue jeans without destroyed effects or rips, worn with a white shirt. With that you´re always dressed right, specially at the office. That´s a look that works nearly everywhere.
But there are other ways of jeans and jacket combinations – for example you can take one of this seasons trending jersey jackets and some more trendy jeans. The jersey sports jackets give you so much more moving space and comfort than a regular suit jacket would. In addition you have more room to move and it feels more comfy – not to mention the many ways to style the jersey jacket for many outfits.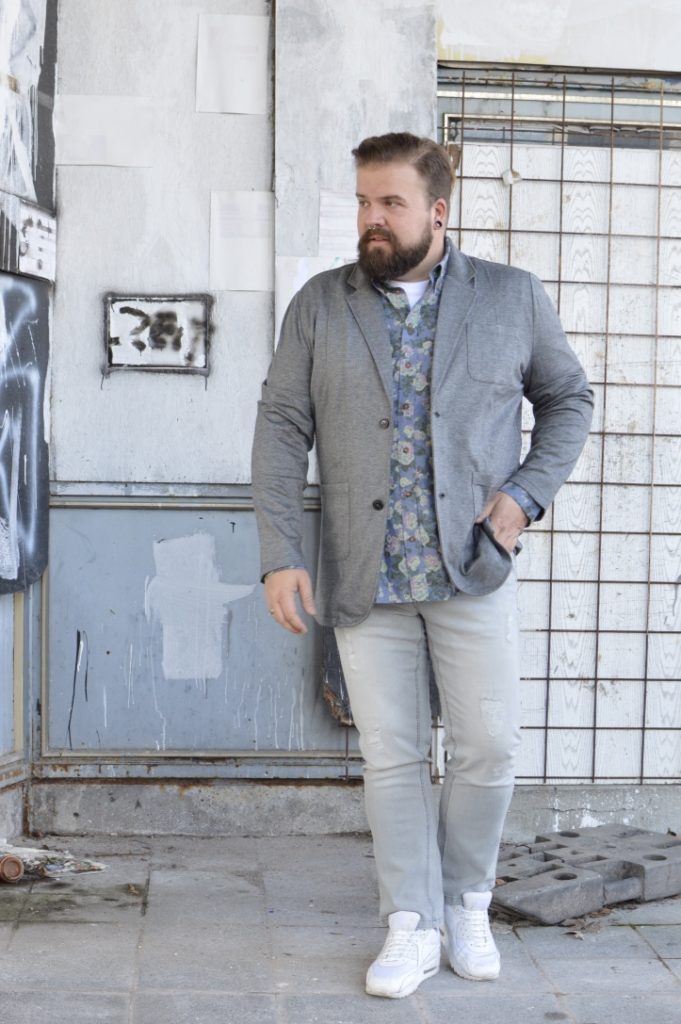 As I have been asked to do some more business or at least business casual outfits, I wanted to show you this idea of a plus size business casual look. Maybe more appropriate if you work in an agency and not for a bank or as a lawyer… But in most offices it should work perfect for casual Friday.
Grey jeans with destroyed effects paired with a green-grey shirt with flower print are a great base for the casual business look. Even if the flower print is a strong pattern, the colours keep it smooth. If you wear the grey jersey jacket with them, you´ll have a comfy outfit that´s quite elegant at the same time.
If you go for drinks with collegues directly after work, just leave the shirt at the office or put it in your bag. That softens the business touch of the jacket and outfit gets more cool – specially with willowed sleeves.
If you´re still in the mood for party after you had drinks – the outfit is made for hitting a club as well. It's a kind of layering look and you can take off one layer after the other. So just leave the jersey jacket at the cloak room and hit the dance floor with a cool t-shirt. So this outfit can bring you through the whole day and through many occasions. From office to clubbing and if you spend the easter holidays with your family, you are dressed right from brunch to playing with the kids in the yard and also for drinks after dinner.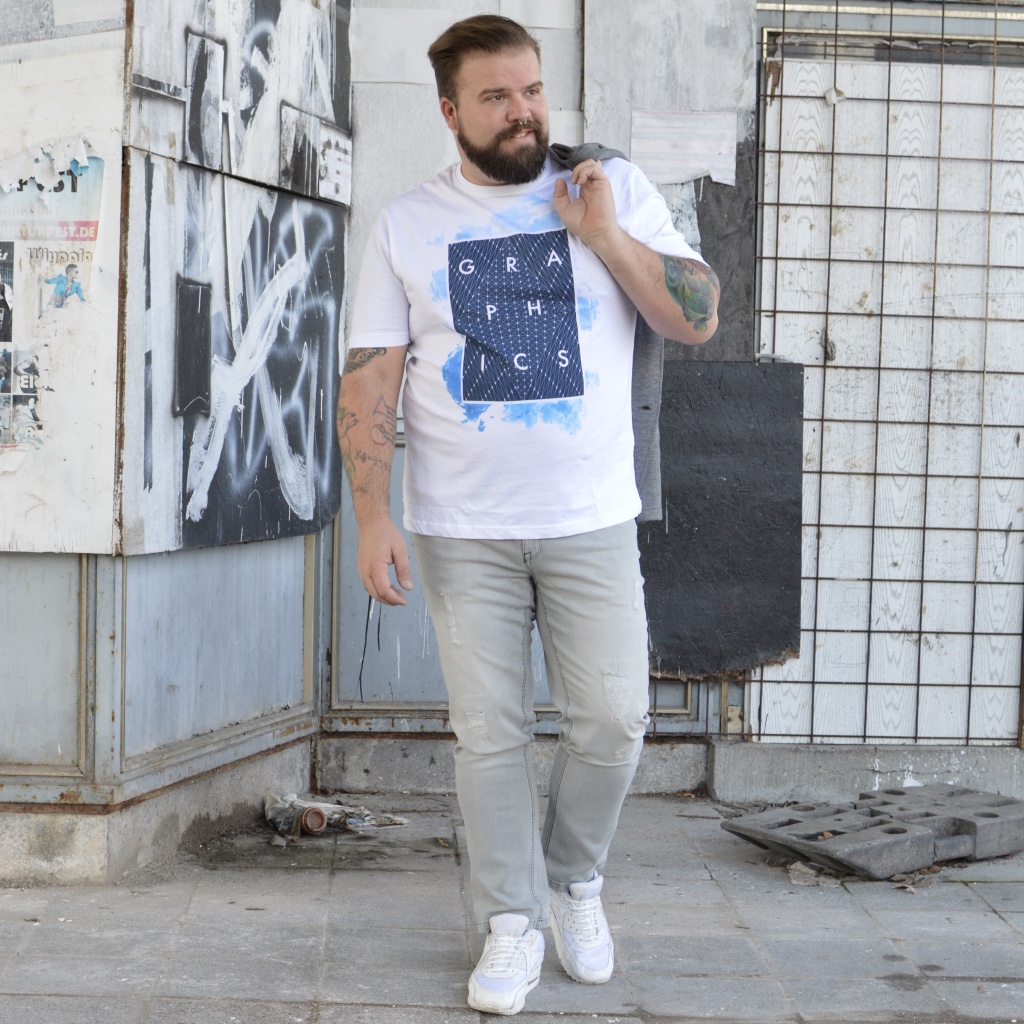 I use the jersey jacket as a kind of substitute for a denim jacket – just pull it over any t-shirt or shirt.
I thinks it´s been about 3 or 4 years as there already had been sports jackets like that – by that time in more heavy sweat fabrics. Last autumn they appeared in knitted versions, now you can have them in soft and light jersey qualities. The best thing: They are also available in plus sizes as the one I´m wearing. More up to date trend pieces come into the stores for plus sized guys – I love that fact!
Accept your Extra-Inches – love yourself!
Shopping-Links:
Please see my size guide for comparing your measurements with the provided sizes I wore the clothes in this blogposting.
Follow me! INSTAGRAM & FACEBOOK
*tagged articles have been provided by the named brands or shopsfor this blog posting