If you´ve read my last post, you already know that I´ve been invited to London by ASOS. Me and some other influencers had an interesting tour through the headquarter and talked about the the launch of the new plus and tall collections at a nice dinner. The collections had a soft start in December and there is much more to come!
Everyone who was invited was asked to pick out three items from the plus and tall collection, that were given to us as a present during the dinner. I chose a denim shirt with a print on its back, a long fitted shacket and a suede bomber jacket.
This post shows you the first of my London looks, pairing the denim shirt with the bomber jacket.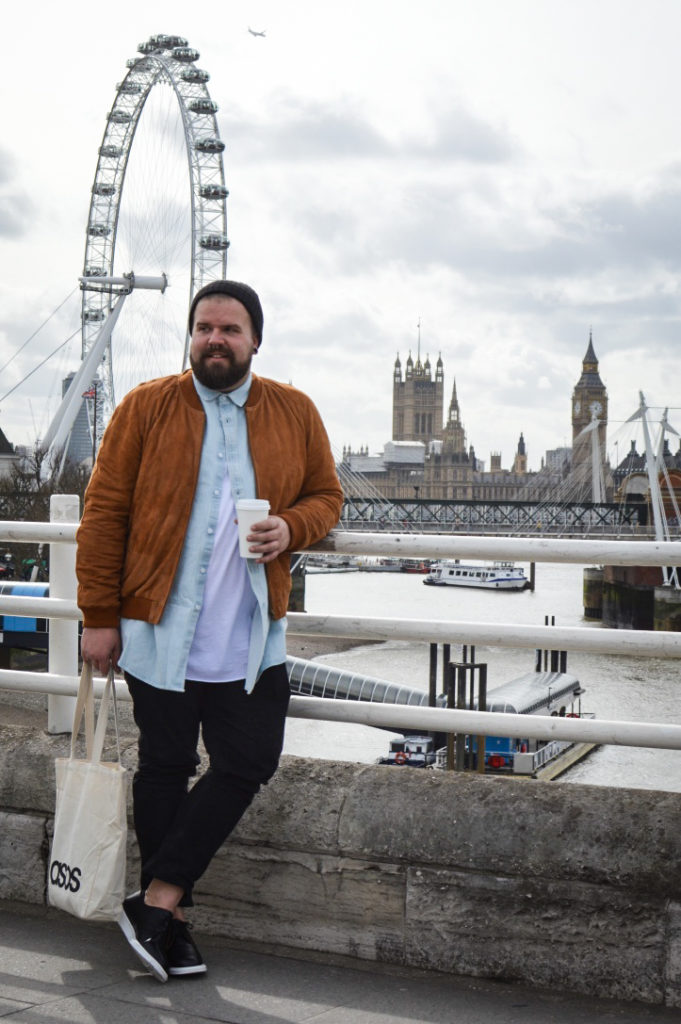 That really is a quite classic look, that can be styled trendy easily! For that look, I only closed the top button, wearing a long fit T-shirt under that denim shirt and the bomber on top. Paired with a mini fisherman and and my new Dr. Martens – which I bought at Camden Market the day before – it´s a really cool outfit. Btw: rolled up jeans will be there the whole spring and summer season! Not only for slim jeans, but also for wide leg trousers! I have seen that a lot in London, paired with socks in all different colours.
As I have been to London a few times before, I did´t want to do sightseeing, but shooting the new outfits for the blog instead. By doing that with a friend, I even saw some of the major sights like Big Ben, the London Eye and of course the red phone boxes and the red street masters.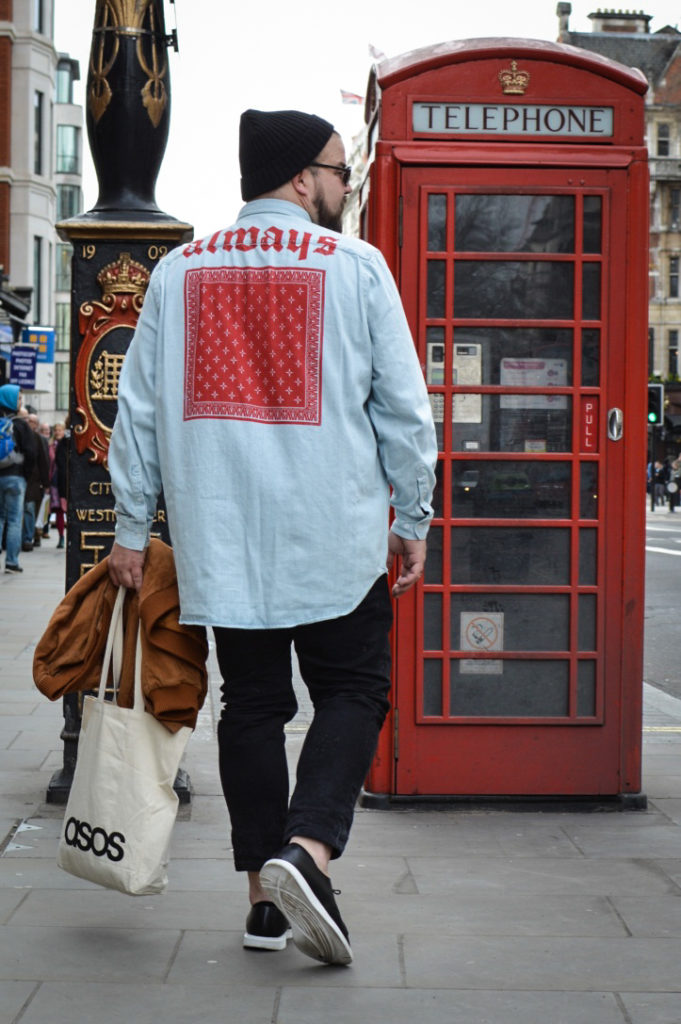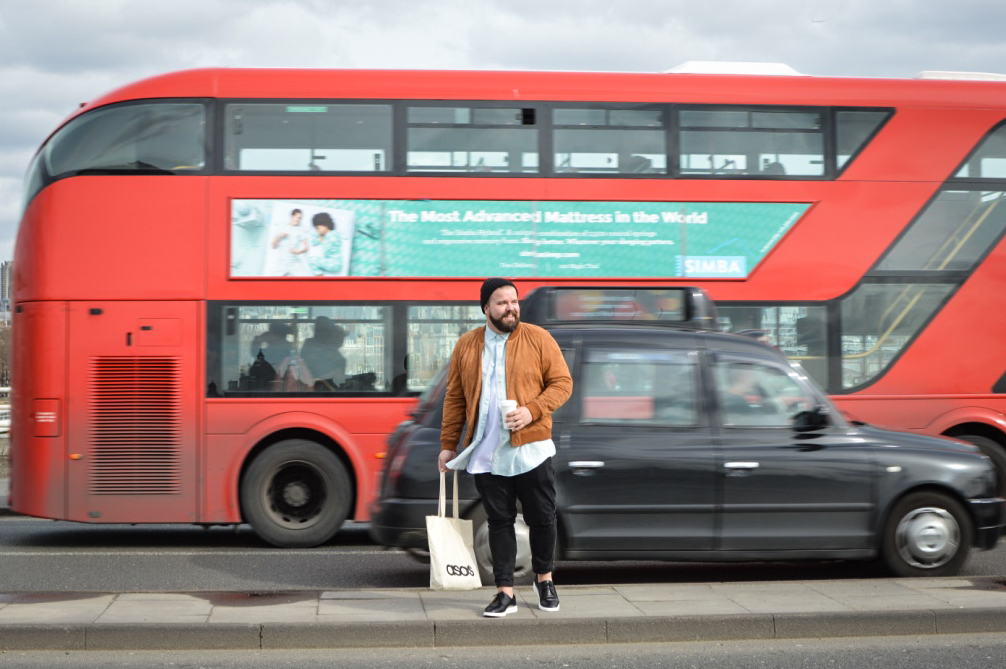 I really love this picture taken on Waterloo Bridge! We wanted to have a street master in the background, but that also a black cab drove into it as well was random and make that a really special shot!
Just at the head of Waterloo Bridge there is Sommerset House – where London Fashion Week takes place. It has a nice terrace and a beautiful quiet yard where you can have a rest from the big city noises by having a coffee at one of the the cafés located inside the yard.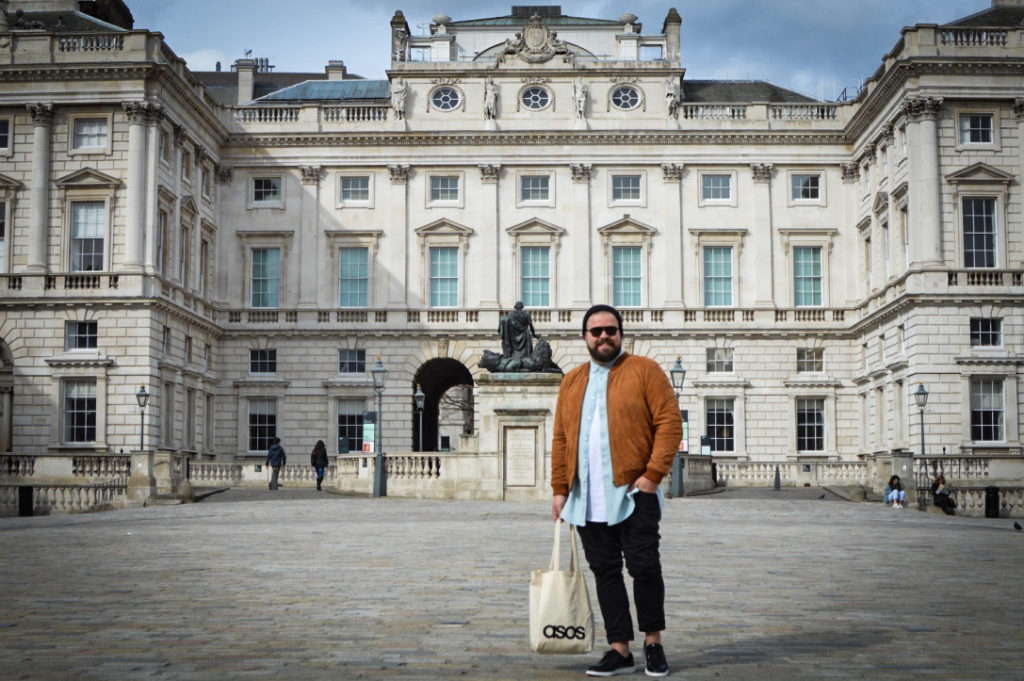 The demin shirt combined with the suede bomber is a great city outfit, specially for weekend trips, because no matter what you decide to to, you are well dressed, at least in more casual locations. No matter if it´s shopping, visiting a museum or musical or you just have drinks at a bar in the evening – you are dressed for the occasion! Also for spring or fall it´s great because the bomber keep you warm enough and is not to heavy or disturbing to carry around if the sun comes out.
Without th bomber, the look kind of changes, because you reveal the back print of the shirt and the outfit gets an even more trendy touch than before.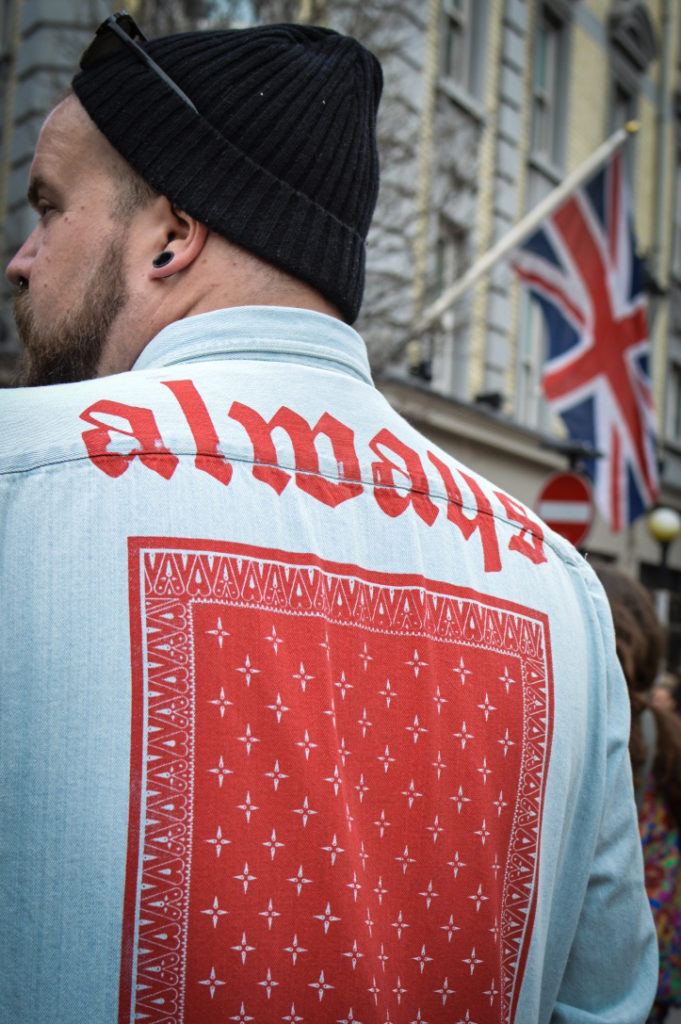 Want to read more about my trip to London and what I have experienced? You will find that here: London with ASOS
Accept your Extra-Inches – love yourself!
Shopping-Links:
Please see my size guide for comparing your measurements with the provided sizes I wore the clothes in this blogposting.
Follow me! INSTAGRAM & FACEBOOK
*tagged articles have been provided by the named brands or shopsfor this blog posting  – this time as a present during the dinner in London