You either lover or hate turtlenecks (or polo jumpers). There is nothing in between. some people simply hate the tight feeling on their throut, others don´t care about that and just like the look of them. Turtlenecks also have a prissy reputation – but there´s no reason for that, as you can create cool outfits with them.
You will find turtlenecks or polo necks in many different variations, from really thick woolen ones, to light knitted ones, made out of jersey with short or long sleeves.
For this posting, I have ordered two jumpers, a brown light knitted one and a black jersey one. As the first outfit idea, I just wore them as a single piece.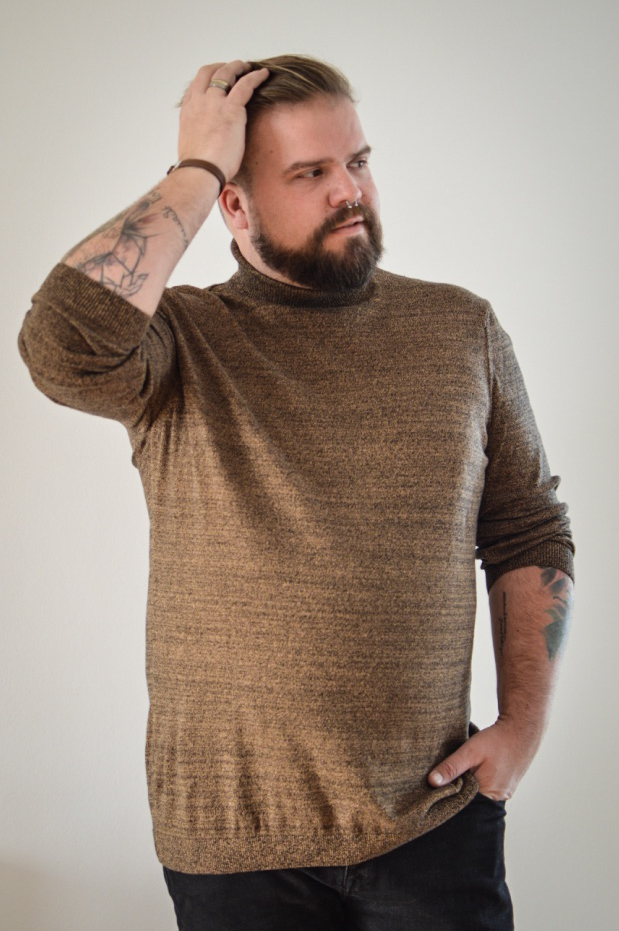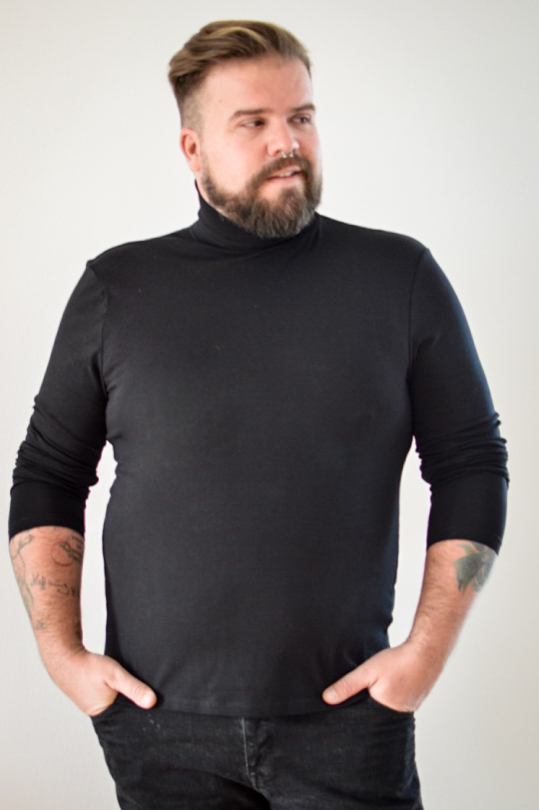 Wearing them just simple an classic like that, they are a really cool base for your all day outfit. Btw.: Turtlenecks have always been available in plus sizes, like many other basic pieces. Those two I have ordered are from the new ASOS PLUS range.
The first styling alternative would be a cool and trendy street style. For that look I have paired the brown turtleneck with one of this seasons it-pieces, a shacket (shirt jacket mix) with camouflage print. The colours are a perfect match. And I think that the turtelneck make the camou-shaket a bit more elegant and the other way round, the shaket is a styling uplift for the jumper. A classical win win situation. 🙂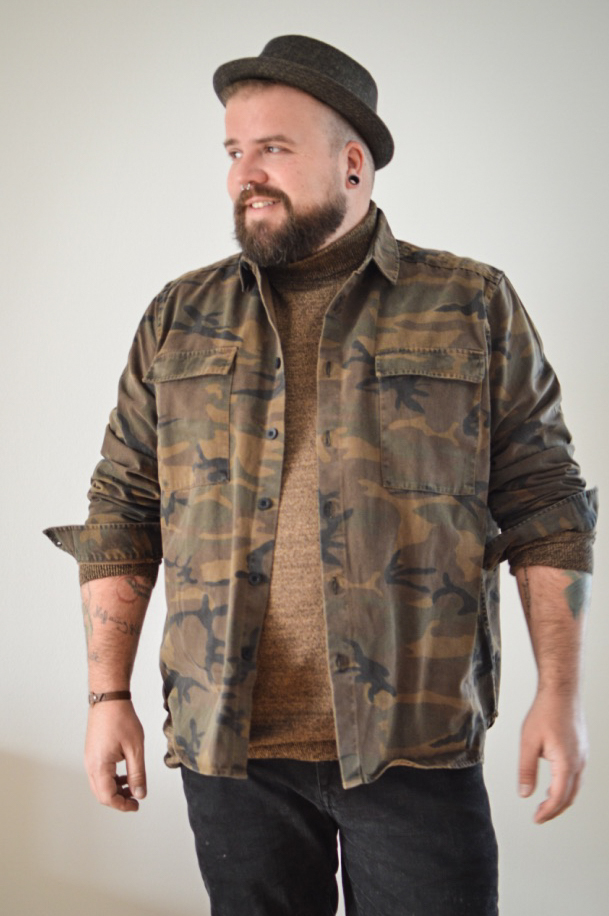 For creating the street style look with the black jumper, I just paired a baseball cap and a denim vest with patches (did that myself). I really love the contrast between the elegeant balck, the colourful patche sund the bright denim. Even if those pieces are complete different, they work poerfectly together and create a great look.
One of the trend topics this spring and summer will be grunge and punk inspired outfits. I thinks that this turtleneck outfit matches that trend quite good.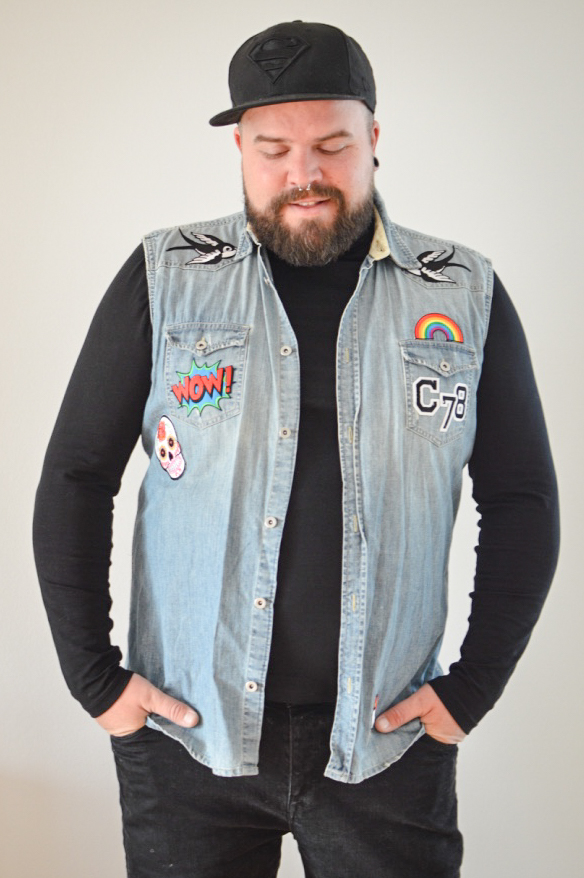 The third variation of wearing your turtleneck is the elegant way.
For the brown jumper, I had the idea of a nerdy college professor… the only thing thats missing is a pipe. 🙂 The jacket is really a special piece for me. It´s one of the few clothes I kept for my father who passed away 13 years ago. When I wear it, I see him wearing it paired with cords and a burgundy tie and I can hear him say: "Finally you wear something decent".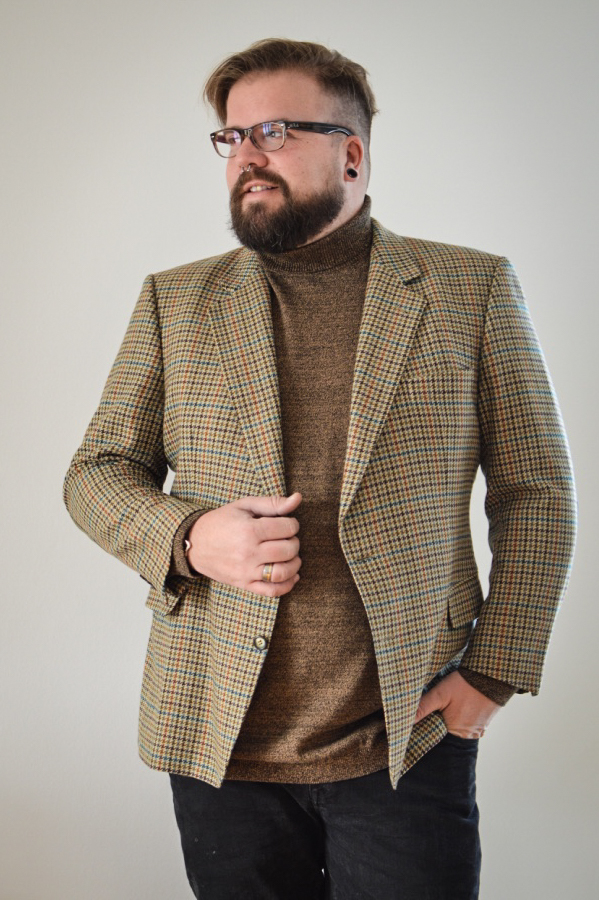 If you pair a tuxedo jacket with the black turtle neck, you are ready for every formal occasion. From romantic dinner and an evening at a theater  to walking a red carpert! 🙂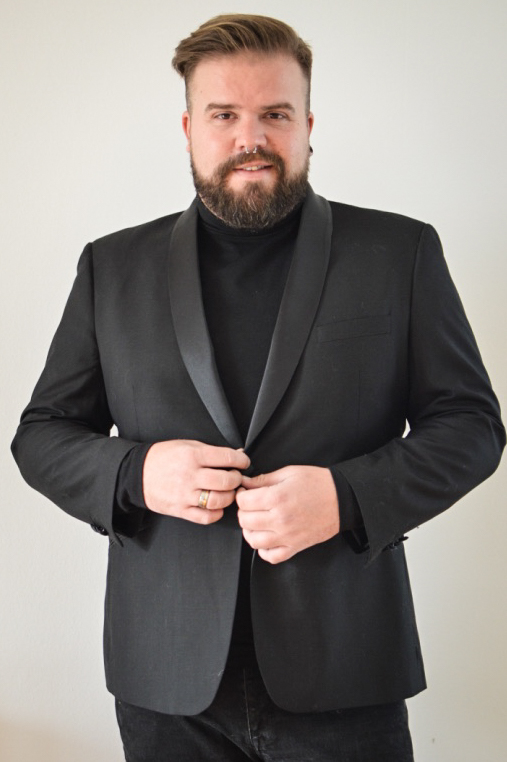 Eeven if you don´t see shoes on those pictures, you can use shoes and other accessories to complete those looks. Choose sneakers or boots for the single turtleneck outfit and cool and colourful sneakers for the street styles. Brown chelsea boots would be the perfect macth for the nerd look as patent leather shoes would be for the tuxedo outfit.
For me this posting is a good example, how easy you can create six outfits with just 2 new pieces. Plus Size men can play with fashion and accessories as well and cam pimp every style and pair new pieces with old ones from your closet.
Accept your Extra-Inches – love yourself!
Shopping-Links:
Please se my size guide for comparing your measurements with the provided sizes I wore the clothes in this blogposting.